NOW READ DAVID A. HARDY'S NEW ARTICLE?
(if you want to know how stupid the "Moon Hoax" idea really is). Photos courtesy of NASA.
THE GREAT MOON-LANDING HOAX?

By David A Hardy, FBIS, FIAAA
As I write these words it is exactly 35 years since men first landed on the Moon. That was on 20th July 1969. It was an amazing achievement - but apparently up to twenty per cent of Americans (that's one in five) believe that it never happened but was nothing more than a hoax perpetrated by NASA, and many British people (especially those who are too young to have witnessed the adventure) seem uncertain too. This seems incredible to those of us with any knowledge of the subject, and most of us would prefer to ignore such patently stupid allegations, which come mainly from some people who have made money out of books and TV appearances in which they explain all the 'mistakes' made by NASA. Enormous publicity was given to it by a documentary transmitted twice in 2003 by Fox TV in the USA, and later by Channel Five in the UK. I decided to refute each claim only because it is useful to have ammunition and hard facts when confronted by someone who has believed them! (I might add that I witnessed the launch of Apollo 15 in 1971 - an experience I shall never forget.)
The two main proponents of this theory are Bill Kaysing, former head of technical publications at Rocketdyne (which made some of the motors for Apollo, and who claims the CIA has made five attempts on his life in order to silence him), and Ralph Rene sometimes described as a 'scientist' and sometimes as a 'self-taught engineer', and author of NASA Mooned America. Both claim that NASA could not have got to the Moon in 1969, and would not have risked the lives of the astronauts, so either they went to the top of the launch gantry and were smuggled back down, or they went into Earth-orbit but no further. They say that the landings were actually filmed in Area 51, a top secret military base in the Nevada Desert, USA. (This is also where other conspiracy theorists say the US military are hiding captured UFOs, and even dead aliens. . .) Kaysing claims that the Russians never intended to go to the Moon. But they did; cosmonaut Alexei Leonov told me so himself! And had the Soviet government suspected that the USA was committing a fraud, they would have been the first to reveal the fact.
I believe that such accusations are an insult to the brave astronauts who risked their lives, and to the millions of people who were involved in the planning and building of the spacecraft, launch facilities, communications, and so on. For the claims to be true, all of the 400,000 workers directly involved in the Apollo project were either duped too, or are very good at keeping a secret! We all know that this is impossible, but it does not silence the theorists. Furthermore, you need only to look properly at the thousands of wonderful photographs and movie footage to know that they are genuine; even today, our digital techniques could not match this. As photographer H.J.P. (Douglas) Arnold says: "They are literally out of this world, and to say they are a fraud demeans the achievement."
Most scientists simply ignore this whole matter and quite reasonably refuse to dignify the accusations by treating them seriously. Sir Patrick Moore commented that "their ignorance of science is so complete that it is pointless to argue with them." However, since most people will not have the necessary knowledge to be sure whether there is any truth in what they say or not, and since some of the points do at least look superficially as if they could be genuine, let's examine the 'Top Ten' claims: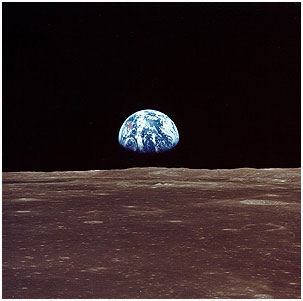 Looking back at the Earth from the Moon: You can't see the stars for the same reason as you would not be able to see them if you were in a football stadium at night with the flood lights on! The Sun is extremely bright in space.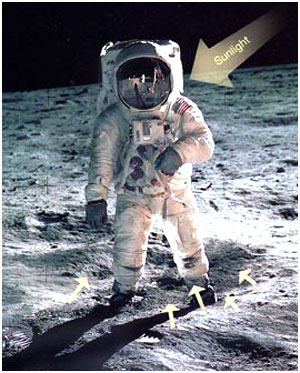 Trick of the light: Buzz Aldrin on the lunar surface... David's arrows indicate how sunlight is reflected by the Lunar soil and the space suit... can't see the camera - crew reflected in his visor... can you?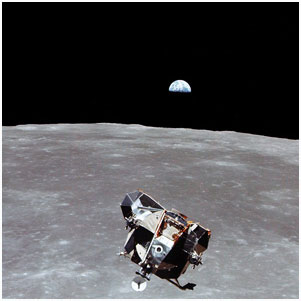 The "Eagle" returns: Armstrong and Aldrin pilot the Ascent Stage of the Lunar Module to rejoin Collins orbiting in the Command Module high above the Moon... That's us on the horizon.